Everyone wants to look and feel good about themselves, and this is especially applicable to women who love to dress up. However, when it comes to tops for women, you have to be specific and perfectly aware of the shape of your body. This will help you save a lot of time when you are shopping for trendy tops for women.
Tops for women are a popular and fashionable piece of clothing. Even if you are someone who prefers wearing T-shirts and jeans, using some fashionable tops can also up your game. T-shirts are unable to provide the glamorous looks women receive from wearing tops. In this article, we will focus on different types of tops for women, and you can use them to create a perfect look for yourself.
Best and trendy tops for women to wear in 2023
Here is a list of the best tops for women you can add to your wardrobe:
Short jacket-style tops
One of the best tops for women you can find in the market is a short jacket-style top. These tops usually do not have any sleeves, and they also reveal a little bit of your tummy. If you are looking for any kind of alternative to a jacket, then short jacket-style tops can be the best choice for you.
You can wear it with denim jeans and mix it up with different styles and shades to bring out a unique trait of this top. They are even available in faded look, which makes it ideal for someone who is looking for something unique yet attractive. If you are going out for a casual outing or date, then a combination of jeans and denim style tops will be perfect for you.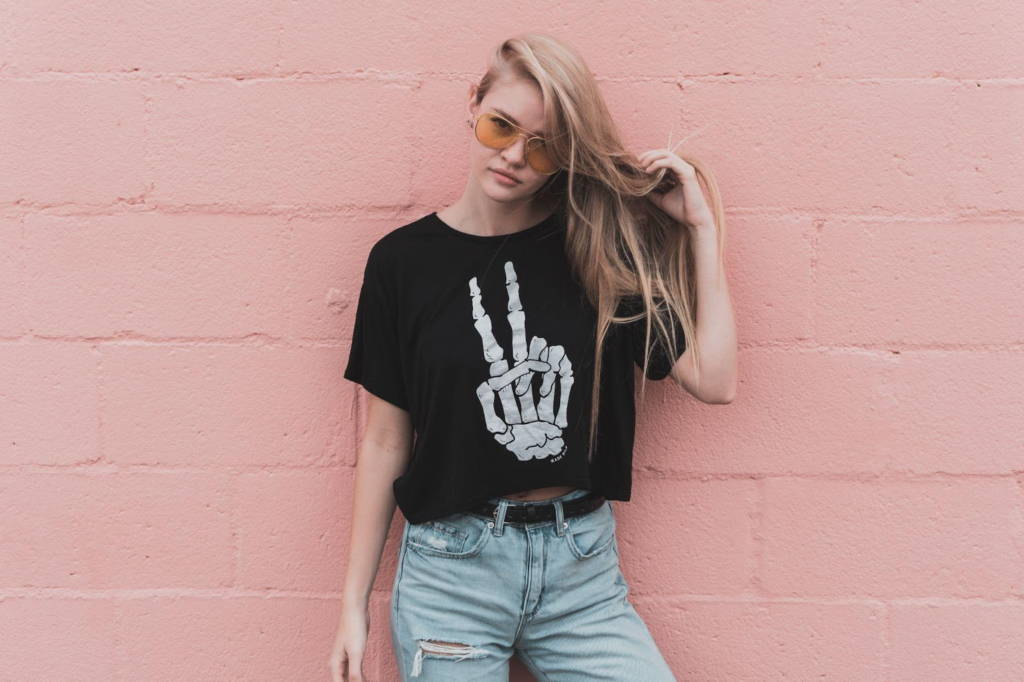 One of the best summer top styles is crop tops.
Blouse top
As the name suggests, this kind of top resembles a blouse which is one of the most classic forms of clothing for women in the Indian subcontinent. It is a classic yet popular top because of the wider hemline, broad straps, modest collarbones, and boat-neck design.
Since the blouse tops come with chest straps, you should wear them with a lower bust size. A blouse that is smaller than usual in size will allow you more leeway if your bust size is greater. You can easily pair it up with denim or any other type of clothing for a fashionable look.
Trendy strips tops
Trendy striped tops are typically a type of tank top, but unlike any other kind of tank top, their top section is short and compact in nature. They consist of thin strips in order to expose more skin. The aim of this kind of top is to make the person who wears them feel seductive and appealing.
Another important aspect of the trendy striped tops is that they are lengthier on the bottom side. For the same reason, if you pair it up with skirts and jeans, it will definitely look good on you. Furthermore, the clothing comes in different colors and varieties, which is why every woman will be able to find what they are looking for.
Cami top
One of the most relaxed-fitting tops for women is a cami top. This type of clothing maintains a little bit of distance from your waistline, and due to its casual look, it suits everyone, even if the person wearing the top is a bit more healthy in terms of physique.
One of the best features of the cami top is that you can wear it with almost anything. You can wear it for work, casual outings, dates, etc. Women can wear a Cami top as a working top to appear relaxed and comfortable while yet appearing classy and leisurely for an evening out.
Shrug-like belt tops
Although these kinds of tops resemble a blouse, they are a bit open and come with a belt which gives them a totally different look. These shrugs have long sleeves, and there are multiple buttons on the front side. They are available in different styles, patterns, and colors. Another important feature of this top is that you can wear them any time of the year.
Tube tops
One of the oldest tops for women, which is still in trend, is the tube top. In terms of versatility, it is also top-notch. There are different versions of tube tops available such as striped, banded, solid, etc., and you can wear them together with almost anything. For example, if you are searching for a distinctive top, then you can use a striped top. You can put it on over a suit, a swimming suit, or even a comfy pair of sweatpants when you're ready to hang with the guys.
Final words
For a woman, fashion and clothing are extremely important, and for the same reason, trendy tops for women are equally popular. These tops are versatile in nature, which means you can literally wear them with anything. Moreover, if you have multiple tops, you won't face any kind of issue while searching for something to wear on any occasion.